People come to weddings to celebrate the union of a couple, but let's face it: they enjoy walking away with some great wedding favors, too. Making the perfect wedding favor box is something of an art that many people haven't mastered, and it's a shame – it's really not that difficult to do. Depending upon the style of your wedding, a wedding favor can come in a bag, in a box, or in a basket. The main thing is to make it unique and memorable, but also exciting; the guest should be chomping at the bit to open the packaging.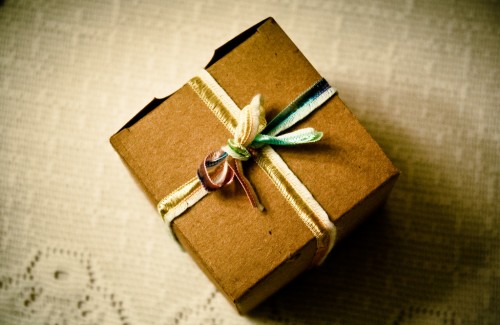 While some bridal companies will design the wedding favor boxes for you, it's usually more rewarding to take a DIY route. Unless, of course, you have hundreds of people coming to the wedding – in that case, it might be better to hire a professional. Doing it yourself allows you to customize the wedding favors with that 'touched by the bride' feel which makes them even more appealing.

However, here's one thing to keep in mind: the items included inside a wedding favor should be useful. Putting in useless charms and knick knacks will end with your wedding favor delegated to the recyclable pile, and that's no fun at all, especially not after you put a lot of hard work into it. By including things people can actually use, you'll ensure that the memory of your wedding lives on.
Here are a few unique ideas to consider: lip balm. If your wedding takes place outdoors or on a day you expect to be windy, a bit of lip balm can go a long way towards keeping your guests comfortable and happy – not to mention encouraging some behind the scenes kissing! Another great idea to include is coffee beans. The morning after the wedding can be a rough one, particularly if the reception carried on late into the night. Your guests will appreciate the caffeine boost provided to them. If you expect your party to be one of particular merriment, including a 'hangover kit' with Advil, Gatorade, or a bottled water will earn you the undying gratitude of your guests.
The packaging of a wedding favor is just as important as what's inside. Ideally, the packaging will follow the same color scheme and pattern as the rest of the wedding; it shouldn't be too different from the same colors. If put together properly, it will immediately catch the eye. Just don't do too good of a job; you don't want to draw attention away from the blushing bride herself!

Wedding favors are a fun but often overlooked part of most weddings. Go the extra mile to make sure yours stand out and thrill your guests; if done right, your wedding will be talked about for years to come based on wedding favors alone.
photo credit: