The moment your guests taste the smooth velvet frosting of your cake grace the presence of their mouths, you'll know that you made the right decision in flavor. However, you don't just want your cake to taste great; you also want it to have style and pizzazz. Many couples choose to have wedding cake toppers, and these help to bring the sophistication of your dessert up to another level. Wedding cake toppers come in all sizes, styles, colors and levels of formality to match with your cake and the ambiance of the reception. Some couples choose to buy ready-made nuptial cake toppers and others have them custom-made to suit their needs.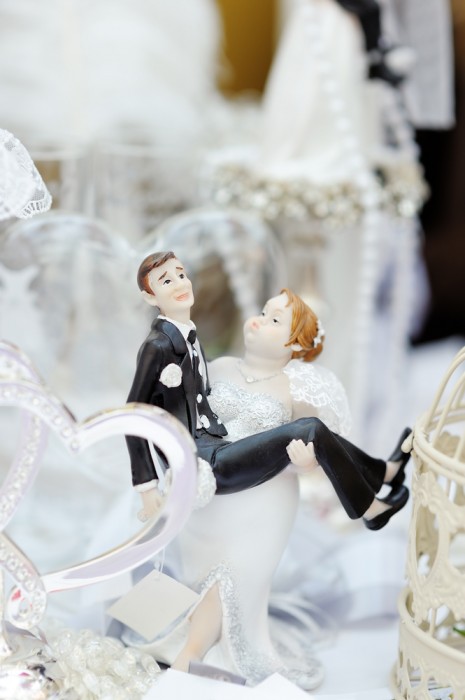 Those who are shopping for ready-made cake toppers can find a range of options. Some of them are simple for the couple who doesn't want to add too many frills to the frosted dessert. Others invoke a sense of humor to complete their missions, and still others bring to light the deepest emotions of affection. Couples can also find same-sex cake toppers as society begins to realize that all love is the same. Some cake toppers bring the couples' interests into the picture. For example, it might incorporate a love for reading or a passion for a certain sports team into the design. 

While many options are available for couples who want to add something extra special to the top of their cakes, they can also have ones crafted specifically to their interests. They may wish to add miniature replicas of their pets into the statue, or they might want to have the figurines made with the same hair and eye colors as themselves. They can also weave the colors used at their celebration into the figure so that everything matches. Choosing to have personalized cake toppers also means the couple can have the wedding date and their names written on them. Even these simplest of touches show the couples' personality and shared interests on their wedding cake.