This shop has an incredible variety of dresses and accessories at prices so low that I was blown away. I bought a beautiful dress! I'm very happy with it altogether.
To be honest – I look beautiful in this dress! I've found this kind of white lace to be as important in my closet as my "little black dress." I bought it as a staple for my closet, to layer or not. I have now realized that it's much more than a wardrobe-staple – it's a wardrobe-maker.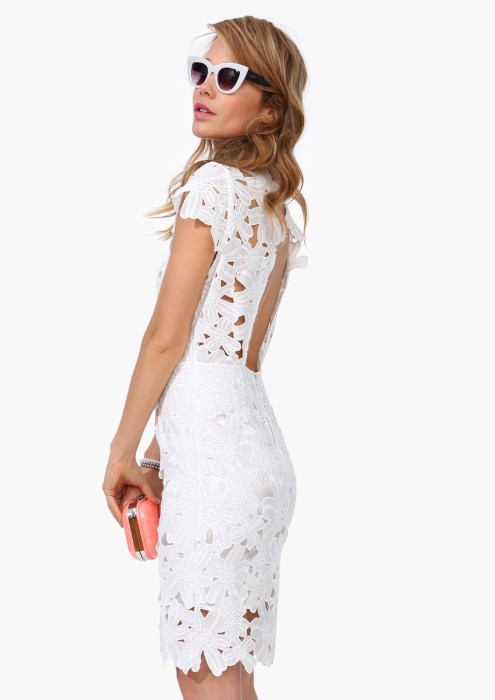 They call it "cut-out lace." The flower leaves are so sheer, with texture only along the edges and in the center of the flower. It's hard to explain, but it's like three layers of floral texture – three ways to set myself apart from all the other women at the party. Wahoo to me!
I love the lining. It's a silky fabric, but it hasn't made me sweat – not at all. The lining covers all the right places and fits like a sheath is supposed to fit.
The best thing is the spiky, uneven hem. This adds so much character, and another thing that makes this dress unique. Depending on my accessories, the hem will either dress it up or down.
There's some power in this dress; I feel very confident when wearing it. My friends have gone crazy with compliments. After wearing it to a party last weekend, I'm planning to wear it more often. I guess it could be a wedding dress, too, in case I decide to become a bride – NOT!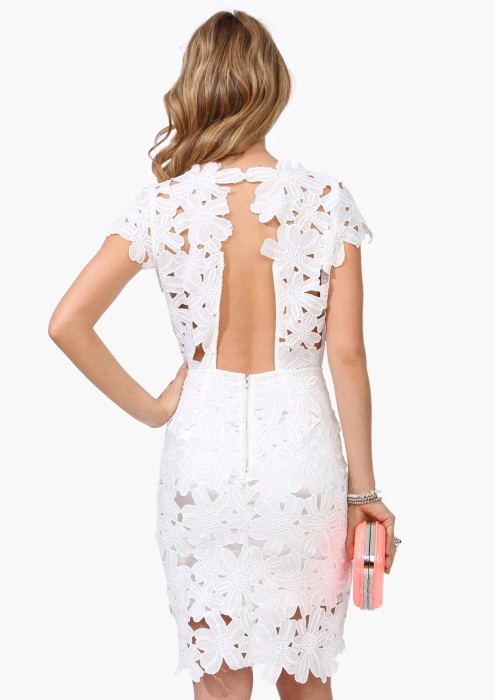 That's another reason I love this dress, it's versatile and can be customized with just a change of accessories. I wish I had ordered more accessories from Uniqistic.com – because they have so many!
My size 10 fits perfectly, so I'd say all are true to size. The elastic waist is just right. If you hesitate to buy clothes online, no worries here! In fact, no worries about anything with this shop. Totally-free shipping, free returns and customer service if you need it.
The question I am constantly asked when wearing this dress is "Where did you get it?" I have to be pretty darn satisfied to recommend a shop to a friend or acquaintance. I do tell them that it came from Uniqistic – and many have heard of it!
Uniqistic has a crazy variety of special occasion dresses, and a full line of wedding dresses. I gave in to a pair of shoes, but there's so much more I want! Not only that, I used the member discount code, even on my first order.
They stayed in touch with me at every stage after purchase – and it was smooth as silk. I received my dress earlier than their guaranteed 15 days. Best thing, I could pay with PayPal! They take regular credit cards, too. So check out Uniqistic.com and buy this dress!